Character Name: Abaddon
Image: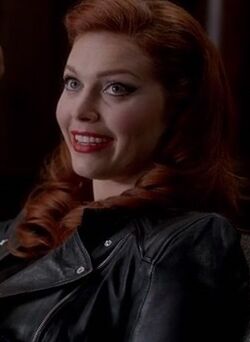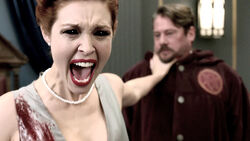 Species:Knight Of Hell/Elite Demon
Age:Unknown
Gender:Female/The Vessel's Gender
Height:?
Figure: Strong/Slim/Fit
Eyes: Blue/Green/Black (Demon)
Hair: Red/Idontknow
Personality:Abaddon is untrustworthy, greedy, and quick to anger, but also very cunning Although Abaddon enjoys causing suffering to others and basks in the fear her victims have of her, she prefers to kill her victims in quick, brutal ways and move on. She views killing as "art";
Job:Knight of Hell
Queen of Hell
Family:Demons (siblings)
Home world: Hell
Likes/Dislikes: Likes Demons/Death Dislkes Humans/Life
Strengths/weaknesses:Devil's trap - Abaddon is unable to escape a devil's trap or use her powers when caught inside one. However, she was able to make her dismembered hand move to her and remove the devil's trap-engraved bullet in her skull so that she could regain full mobility and power.
Angelic beings - Abaddon is at the very least wary of angels. She fled when she learned that the Winchesters had brought an angel with them as back-up, which suggests that Abaddon believed that even a fallen angel would be difficult for her to defeat, however she did not know how powerful, or what rank this angel was, as she only saw his white light.
Demon-killing knife - Although it cannot kill her, being stabbed with the demon-killing knife in "As Time Goes By" caused Abaddon enough pain that she fell to her knees and was incapacitated long enough for Sam, Dean, and Henry to escape.
Holy fire - Although it cannot kill her and she seems to be more resistant to it than lower-level demons, contact with holy fire is extremely painful to Abaddon. When Sam set her aflame with holy fire, she quickly exited her vessel and fled rather than continue enduring the agony it caused her.
Holy Water - Abaddon finds contact with holy water very painful and can be temporarily incapacitated by it.
Angel Blade - Abaddon is at least wary of angel blades. When Dean confronted her with one, she took the precaution of disarming Dean before he could use it on her. However, it is extremely unlikely that an Angel Blade can kill her.
The First Blade - The First Blade combined with the Mark of Cain was able to kill her.
Death's Scythe - Death's scythe can kill anything in existence, including Abaddon.
Demon Curing Ritual - Knights of Hell are shown to be affected by the ritual though Abaddon managed to escape and avoid going through it. And Strenghs Anything but the above
Dream: Death
History:
Abaddon is one of the first demons though younger than Lilith. She was personally selected by Lucifer, the creator of demons, to become a Knight of Hell.[1] Like most of the Knights, she was trained by the original Knight, Cain, and wreaked havoc on Earth for thousands of years. It is hinted that she had romantic feelings for Cain that he did not return.[2]
Abaddon escapes after Cain attempts to kill her.
Eventually, Cain fell in love with a human named Colette and swore off his evil ways for her sake. Abaddon and the other Knights kidnapped Colette in 1863, with Abaddon hoping to sway Cain and have him rejoin her. While Cain slew the other Knights with the First Blade, he hesitated to attack Abaddon, as she was possessing his wife when he found her. His refusal to return to her prompted Abaddon to begin forcing Colette to twist her neck into grotesque angles to spite Cain, stating that if she could not have Cain, neither could Colette. Right as Cain went to stab Abaddon with the First Blade, she left Colette's body, causing Cain to murder Colette instead. Though Cain wanted to find and kill Abaddon for what she had done, Colette begged him not to kill anyone anymore and Cain honored her wishes by not seeking Abaddon out.[2]
AbaddonJosie
Abaddon vacates the Mother Superior and takes possession of Josie Sands.
In 1958, Abaddon was sent to make an example of Father Max Thompson after demons learned of his attempts to turn them back into humans. Abaddon killed Father Thompson on August 5, but not before the priest revealed to her his secrets under torture, including the fact that he had been working with a Men of Letters initiate named Josie Sands.[3]
Some time later, while working with demons to steal human souls, Abaddon possesses the Mother Superior of the St. Bonaventure Convent in Milton, Illinois. When Henry Winchester and Josie Sands arrived, investigating the murders committed by one of the soulless nuns, they manage to exorcise two of Abaddon's demons. Abaddon, however proved immune to the exorcism rites and knocked Henry out. She then planned to possess Henry to study and then destroy the Men of Letters, but Josie convinced Abaddon to possess her instead. Abaddon then ordered her demon to continue their work until the day she returns. Leaving with Henry, Abaddon also subtly threatened Julia Wilkinson into not telling anyone what had happened
Other:No
Roleplay Example: Crowley: I Am your king
Abaddon:About that -punch-