Character Name: Neclord Interfector
Image: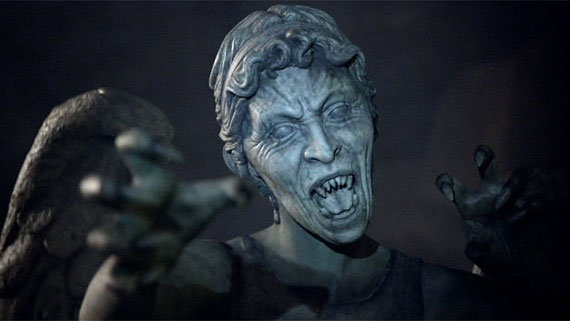 Species: Weeping Angel (Alien)
Age: 234 years old
Gender: Male
Height: 6'2"
Figure:
Eyes: Grey
Hair: Grey
Job: Scaring the life out of his victims, literally.
Family: Died ages ago.
Home world: Earth
Likes: Killing victims.
Dislikes: Being seen.
Strengths: Darkness. Radiation.
Weaknesses: Being seen. All opposition.
Dream: To kill Earth monarch Queen Elizabeth II.
History: 200 years ago, the 34 year old Neclord made his way up to Buckingham Palace, having been born 34 years before in an accident involving radiation, but he was seen by a British guard and he alerted the king who had him taken in, mistaking him for a statue, and put where he could see him. He's been stuck for 200 years, someone has been able to see him every minute of that 200 years. He hopes his chance to kill the queen will come soon.
Other:
Roleplay Example: Neclord's time had come, the Queen was rummaging in her bag, not looking at him. He moved swiftly forward and snapped her neck, then he sat down in her throne. It was good to be King!
_________________
Lieuty