Character Name: Jenny
Image: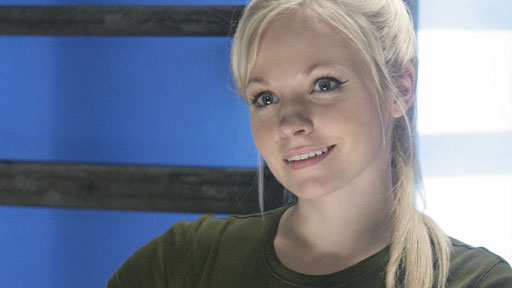 Species: Timelady
Age: 390
Gender: Female
Height: 5'2"
Figure: Lean, Athletic
Eyes: Blue
Hair: Light Blonde, typically in a pony-tail, or worn down.
Personality: Jenny possesses immense intelligence, salaciousness, and determination, qualities she inherited from her father. Jenny is also flirtatious and manipulative (as shown when she tricks Cline by face battling him in order to get his gun). Jenny was 'born' with military values, but her father's influence caused her to see the world in a different way via his values and principles, while still using some of her own at times.
Post 'regeneration', Jenny kept to a mindset much closer to her father's, her thirst for adventure was reawakened. Jenny is also very impulsive, frequently doing actions before thinking them through (as shown when she takes the shuttlecraft almost immediately after reviving).
Job: Adventurer
Family: Father-The Doctor (Tenth)
Home world: Messaline
Likes/Dislikes: Likes; Adventure, Travelling, Learning new things. Dislikes; Violence (unless completely necessary), General Cobb ((Who shoots a person like that?...)), Other threatening aliens.
Strengths/weaknesses: Strengths; Physical, Intellectual, Strong Decision Making Skills, Agility, Stamina. Weaknesses; Impulsiveness, Stubbornness.
Dream: To find her father and to keep exploring the universe.
History: enny was 'born' on a planet called Messaline when her 'father', the tenth doctor's, hand was forcibly put into a progeneration machine, used to create soldiers for a war against an alien species called the Hath, via the parent's DNA.
Jenny was named by her father's companion, Donna Noble, from the proGENeration machine used to create her. Jenny was born as a mature adult, with perfect physical strength and military knowledge to help their side of the army with the war, causing her to be extremely violent and aggressive at first.
Jenny, The Doctor, and Donna were cut off from the Doctor's other companion, Martha, after Jenny pressed a button causing the tunnel they were in to escape from the Hath. Soon after, the three are imprisoned, and the Doctor finds that Jenny has two hearts, as he does (per Donna's suggestion), indicating that she is a time lady, though 'an echo' as the Doctor puts it, rather than a real one.
The trio escape, via Jenny face battling the guard, Cline, and stealing his pistol, and set off to stop the war between the Hath and the soldiers. After being convinced to not kill Cobb by her father, Jenny discusses travelling with her father in the TARDIS, though her dream is short lived and is shot, and to the Doctor's knowledge, is killed when she doesn't regenerate.
After the Doctor leaves Messaline with Donna and Martha, Jenny revives, and steals a shuttlecraft to explore the universe. She strives to be like her father, and sends him a space version of a message in a bottle after a suggestion from a man in a cantina on one of the planets she visited, and hopes he gets it so they can reunite.
Other: Jenny is stuck in the future time period Messaline was in until her father (or another timelord/lady) finds her.
Roleplay Example: Jenny had gone many places since leaving Messaline, she had acquired two quad blasters, which, while sounding violent, had actually enabled the time lady to solve problems in much more peaceful ways, as she had learned from her dad. It had seemed like ages since her dad had left Messaline, not knowing that she had revived moments after.
This brought her to the planet she was on now, Cashel. It was inhabited by humans, and there she found a way to contact her father. She had found a man in a Cantina, who began explaining how messages used to be placed in bottles, and thrown into the sea. This gave Jenny an idea.
The blonde pulled out whatever writing utensil she had, and began scribbling out a letter to her dad, making a few copies in case the first one didn't work.
Hi Dad,

It's Jenny, your daughter from the progeneration machine on Messaline. I know you probably think I died after General Cobb shot me (it sure looked that way, I know), but I revived...somehow, still haven't figured that one out yet (you probably could?). Anyways, I stole a shuttlecraft right after I revived, and have been having tons of fun exploring, just like you and Donna told me about. I don't know how to find you, so I'm hoping this message in a bottle thing works out. Right now, I'm at a Cantina on a planet called Cashel, there are a bunch of humans here, so I think I'm safe, I'll be staying here for a bit, just in case you find this. I hope I can make you proud.

Love,

Jenny
Jenny scrawled in big letters on the outside of the paper of each one, "TO: THE DOCTOR" before rolling them up and shoving them inside their respective empty beer bottles. The blonde then promptly hovered above the planets atmosphere in the shuttlecraft, and ejected the bottles into space before returning to the planet's surface, hoping her dad would find it in time.
There is no specific topic, so whatever you want to do.