Name of Ship: Glass. Not an acronym, doesn't stand for anything in particular.
Image, if Possible: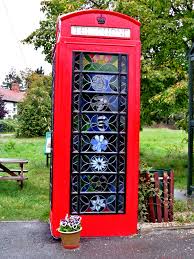 Color of Ship: Red, but it has stained glass windows that have a black outline.
Appearance of Ship: see picture. It's Chameleon Circuit actually does work, but Poet tends to stick to the modern phone box look. Occasionally, she'll turn it into a tree, but she doesn't do that too often.
Size of Ship: It is the same size as a normal London telephone box. Except, of course, Poet's ship is bigger on the inside. It's dimensionally transcendental.
Does the Ship Make Noise?: No, Poet turned the brake's sound off.
Who uses the ship?: Only Poet uses the ship, unless she gives someone special permission.
Who Made the Ship?: Poet made the ship after years of collecting the right parts on Gallifrey. She took the other Type 40 TARDIS's as examples, and built her ship from there. It took her a total of 12 years.
Orgin: Technically Gallifrey.
Other:
_________________